Free Initial Consultation
A non-surgical consultation at Assure Cosmetic Centre for all skin and injectable treatments is free of charge and without obligation.
Treatment Price List
Download our price list for non-surgical treatments here:
Assure Cosmetic Centre – Non-Surgical Treatment Price List
Gift Cards
An Assure Cosmetic Centre gift card makes the perfect gift for someone special. Our gift cards are redeemable on our full range of non-surgical treatments, including injectables, skin rejuvenation, dermal treatments and our medical-grade skincare products.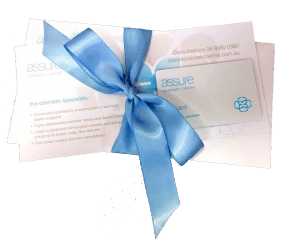 Gift cards are valid for one year from the date of purchase and you can nominate a card value of your choice.
To purchase a gift card, simply visit the clinic or contact us and we can arrange postage to your address, or direct to the gift recipient.
Payment Options
Assure Cosmetic Centre accepts cash, cheques, EFTPOS and most credit cards. All private consultations (excluding initial free consultations) are to be paid for on the day of service. A cancellation fee may apply to Specialist Plastic Surgeon consultations. Cosmetic surgery fees require pre-payment a minimum seven (7) days before the procedure.