Hyaluronan, or better known as hyaluronic acid (HA), is a key molecule involved in skin moisture and is naturally produced in your body. It is mainly found in your skin, eyes and connective tissue. Youthful skin maintains its elasticity, flexibility and durability due to its high content of water. But the normal ageing process and skin's exposure to daily environmental factors, causes loss of moisture.
This is where using a multi-molecular weight hyaluronic acid serum as part of your daily skincare regime can be so beneficial.
Our team love ha densimatrix from mesoestetic – a hyaluronic acid concentrate containing several molecular forms to maximise penetration and absorption. Dermal Therapist Caitlyn answers some questions below about our use of ha densimatrix at Assure Cosmetic Centre and why we recommend this product to our clients.
1. Can you explain how hyaluronic acid (HA) in skincare benefits skin?
Hyaluronic acid is already naturally occurring in the body. It attracts and holds onto moisture in the skin cells, which allows the skin to feel more hydrated and plump. As hyaluronic is a humectant, once the moisture from HA has been delivered to the epidermis, it will continue to draw moisture in from its surroundings to provide long, lasting hydration. Hyaluronic will help to reduce the visibility of fine lines, stimulate skin cell regeneration, smooth the skin's overall texture, as well as tighten and plump the skin.
2. Do you apply ha densimatrix on your client's skin post-treatment? How effective is it in assisting skin to recover post-treatment?
We apply ha densimatrix after most dermal therapy treatments as we find it really helps with hydration and recovery for the client. It provides enrichment to the extracellular matrix, assisting with epidermal repair and the improving the skin's barrier function.
3. Are there any particular treatments that you would always recommend applying ha densimatrix immediately after to assist with recovery?
We strongly believe in applying ha densimatrix immediately after our medical skin needling or Clear + Brilliant fractional laser rejuvenation treatments. It helps to calm the skin down and provide much needed moisture to the skin while recovering. It also helps to speed up the healing process. We also use ha densimatrix after some chemical peels and dermaplaning to reboost moisture levels.
4. Is the product more effective for certain skin types/age of user?
Due to ha densimatrix's multi-molelcular hyaluronic concentration, it is able to provide effective penetration yet gentle delivery, making this product suitable for all skin types and ages. Clients who would benefit the most and see optimal results would be those that present with aged, dry, mature, sensitive, dehydrated or sun-damaged skin, due to the anti-ageing, moisturising, re-plumping and protective action ha densimatrix provides.
5. What sort of results do you see with ha densimatrix?
Our clients show a noticeable improvement in skin firmness and elasticity, fine lines and wrinkles appear reduced, skin feels more hydrated and skin texture is improved. This is seen in clients of all ages and skin types in any season, due to the stimulation of collagen synthesis, prevention of skin ageing and degradation through blocking free radical damage and carefully maintaining moisture levels within the skin.
6. What do you love about the mesoestetic ha densimatrix in comparison to other ha products?
We love that it contains several molecular forms of HA. This allows for a deep hydration, prevents the breakdown of HA in the body and blocks free radicals to prevent skin ageing. ha densimatrix provides outstanding hydration, rejuvenation and plumping to the skin.
7. When do you recommend ha densimatrix to your clients and how do you recommend they incorporate it into their skincare routine?
We normally encourage most of our clients to be using some form of hyaluronic as everyone can benefit from the hydration. The molecular weight in the ha densimatrix allows the product to penetrate the skin deeper, leaving the client with a deep hydration, whilst also giving the skin a filling effect. This makes it ideal for mature or dry skin. If the client has quite dry skin, we suggest using the product in the morning and evening. Once the skin has been cleansed and toned, 3-4 drops should be applied and massaged into the face and neck. Once the product has absorbed into the skin, any other products such as moisturiser and sunscreen may be applied.
8. What do your clients love about the product?
ha densimatrix is very popular with our clients as it provides moisture without feeling oily or heavy on the skin thanks to its light-weight formula. Clients love the plump feeling it gives to their skin and how it helps to aid recovery after their dermal therapy treatments. A little goes a long way with this product – a few drops is all it takes to cover the face and neck. It is the perfect addition to anyone's skincare regime and because of its enriching formula, applying it always feels like a mini-reward to your skin.
ha densimatrix is available now for $149 – purchase in-clinic or over the phone.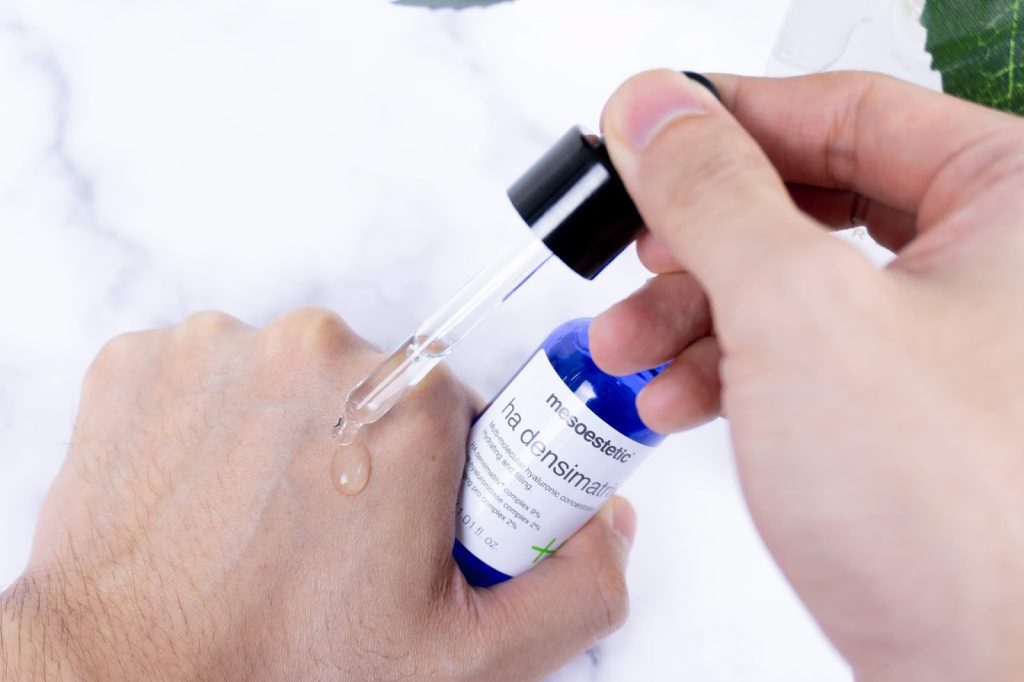 Return to News & Surgeon Blog