Vitamin A should be part of everyone's CSA skincare regime – vitamin C and Sunscreen in the morning, vitamin A (retinol) in the evening.
For people who are unable to use vitamin A; such as pregnant or nursing mothers*, those with sensitivies to vitamin A, and those with extremely sensitive skin, a clinically-proven alternative is Bakuchiol Peptides from Medik8 – pronounced baku-chi-ol.
This lightweight, oil-based serum is infused with plant-derived 1.25% pure bakuchiol to gently help smooth the appearance of fine lines and wrinkles. This is combined with brightening peptide precursors (a lipo-amino acid) to minimise the production of melanin for a brighter and more even skin tone; and Centella Asiatica to soothe and calm inflamed, sensitive skin.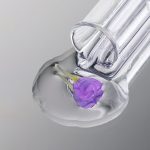 As this conditioning serum should be used morning and evening after cleansing, Bakuchiol Peptides also contains Inka omega oil to restore the skin's natural barrier and block moisture loss to assist with achieving visibly plumped and supple skin.
This lilac-hued formula is contained in a UV-protected glass bottle.
Why do we love this serum? 
No artificial fragrances or synthetic colours
Paraben and phthalate free
Vegan friendly and cruelty free
Alcohol free
Suitable for all skin types
Ideal for those that can't use vitamin A
Medik8 Bakuchiol Peptides is available now for $87
*Due to ethical considerations, this product has not been tested on pregnant women, but there is nothing in the formula which is known to be an issue (e.g. vitamin A or high levels of exfoliating acids). If you are at all concerned, always consult your doctor.
Return to News & Surgeon Blog